Back
What Is A Good Air Compressor Size for Home Use?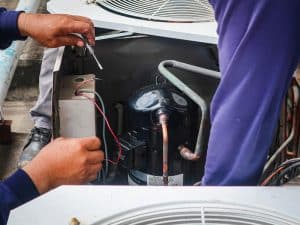 Taking on DIY projects at home is becoming more common nowadays, both as a hobby and to save costs. Purchasing your very own air compressor is a huge game changer in your home projects, with the speed and power generated from an unlimited energy source helping to cut down on manual labor efforts.
However, choosing the best air compressor type for your home can be tricky. Besides just thinking about pros and cons, price and suppliers, it can be confusing to determine what size air compressor to get for home use. Here are several key things you should take note of when choosing a good, suitable air compressor.
How to Determine What Size Air Compressor To Get?
The first step to determining the type and size of air compressor to get is to understand your intended uses of the machine. Some of the most important factors to keep in mind are the tasks you will be using the compressor for, the expected frequency of use and how portable or stationary your air compressor machine will likely be.
To ensure an air compressor is suitable for your project, look at the volume of air produced – measured in cubic feet per minute (CFM). Your air compressor should have a higher CFM rating than your tool's CFM requirements for it to work well.
Air compressors are typically also sold according to capacity, which can be confusing. While the list of home applications of air compressors can be long, here are some common examples of air compressor uses and their usual capacity requirements.

Inflating tires, balls, air mattresses etc
Smaller air compressors (1- to 6-gallon) will suffice
Tools for DIY projects, woodworking – using nail guns, upholstering furniture etc
Slightly larger compressor (4- to 8-gallon range) will be required
Operating automotive tools e.g. impact wrench
Larger, more powerful compressor (over 10 gallons)
Painting and sanding
Large compressor (20- to 40-gallon) is required to keep up with the continuous airflow required
In looking for a good size air compressor for home use, portability is definitely a key concern as well, making piston compressors a popular choice. Though it may be a common perception that larger compressors are less portable, there are some that come with wheels for easy transportation. As such, be sure to look out for compressors with wheels if you require a larger capacity air compressor!
Deciding between oil-lubricated and oil-free air compressors is also a factor to consider during the purchasing process. While oil-lubricated compressors are said to be more durable than oil-free air compressors, this is mostly considered in a heavy-duty industrial setting. As such, oil-free air compressors are a popular choice for home use as they require less maintenance – meaning lower costs and effort. Check out this informative article to learn a little more about the pros and cons of lubricated vs oil-free compressors.
In summary, portable oil-free air compressors within the 10-gallon (37 liter) range is a safe bet for most home uses as it is not too large and requires less maintenance, while still being able to cover a wide range of applications.
Where to Buy Air Compressors in Singapore
When sourcing for an air compressor supplier in Singapore, it is good to look for suppliers that sell both air compressor machines and air compressor parts. These well-rounded suppliers tend to have a sizable selection to choose from, and are likely to provide after-sales air compressor servicing.
Lian Beng Machinery Co is the leading air compressor supplier in Singapore, with good value on a wide range of air compressor machines and parts. They have a range of oil-free air compressors to choose from, including direct drive air compressors and an affordable DIY oil-free air compressor suitable for home use. They also sell a range of other industrial and construction machinery, making Lian Beng Machinery Co the go-to supplier for all your machinery needs.